I've been pondering how exactly to review this book because, honestly, I am still pondering whether I enjoyed it or not. Part of the problem is that this book was written to be current, but it was published in 2007. That doesn't seem like an eternity ago, per se, but a lot has changed in 13 years, obviously! Given the time that has passed, it's hard to know if all of the experiences narrated in the book are really meaningful at this point, or if things have gotten better or worse.
But let's back up a little. What is this book meant to convey? The story is really a trip for the author to see if he can get back his love for Lincoln, or to figure out why he lost it. He was a total Lincoln nut when he was a kid, and his family went to Springfield and Kentucky and all of the key Lincoln landmarks. But then around college the author encountered people who told him that Lincoln wasn't really worth liking that much. Meanwhile, the southern view of Lincoln started to get more attention. "Hey, this guy okayed the destruction of our property and our way of life. What gives?"
So, Ferguson starts traveling to different Lincolnesque places and sites to see if he can unravel the man behind the legend, and along the way get his Lincoln nuttiness back.
The More Things Change, the More They Stay the Same
I have mentioned that this book was written close to two decades ago, but the first chapter, which is about a big fight that erupted over putting a Lincoln statue at the site of the Tredegar Iron Works, turned out to be quite timely indeed. As I read the history of how Monument Avenue was put together, some of those very statues were being pulled down by BLM protestors. The author attended a pro-Lincoln convention and an anti-Lincoln convention in Richmond and found that both groups had their talking points, but no one seemed entirely, authentically enthused.
A Sprinkle of Hypocrisy
Ferguson travels all over the place in this book. He goes to a business workshop in Pennsylvania to see how these two gurus use Lincoln's 19th century sensibilities to help 21st century business pros. He goes to Santa Claus, Indiana, where there is a mixture of Lincolns and Santa Clauses. He goes to the Lincoln museum in Chicago that he used to love as a kid and he talks about how Disney has been doing a lot of behind the scenes work to help kids get interested in history.
Wherever the author goes though, he seems to have a deprecating thing to say about the Lincoln lovers he encounters. People who love Lincoln seem childish and worth deriding. That's all well and good. Making money off of a 19th-century icon can garner differing opinions. But there's one little problem with the constant mockery. The author has written and published a book all about Lincoln. To me at least, the constant poking at everyone he encounters gets old fast. You're making money off of those folks and what they do, soooo…maybe tone it down a little.
Lincoln's Footsteps
The last two chapters were my favorites because the author takes his family on a Lincoln pilgrimage, following Lincoln backwards through his life story. They start in Springfield, head over to New Salem, go through the wilds of Indiana (now near Decatur), then they make their way into Kentucky, where they visit the temple housing the alleged Lincoln cabin along with Sinking Spring Farm.
Even here though, the book is darned depressing. Every single site gets criticized. The Lincoln home in Springfield is no longer interactive. There is a mat that marks the path you have to take. The neighborhood that once surrounded the home is gone, and to the author, Springfield seemed like another dying Midwest town. In Decatur the place that marks where the Lincolns lived is barely visible. Etc etc.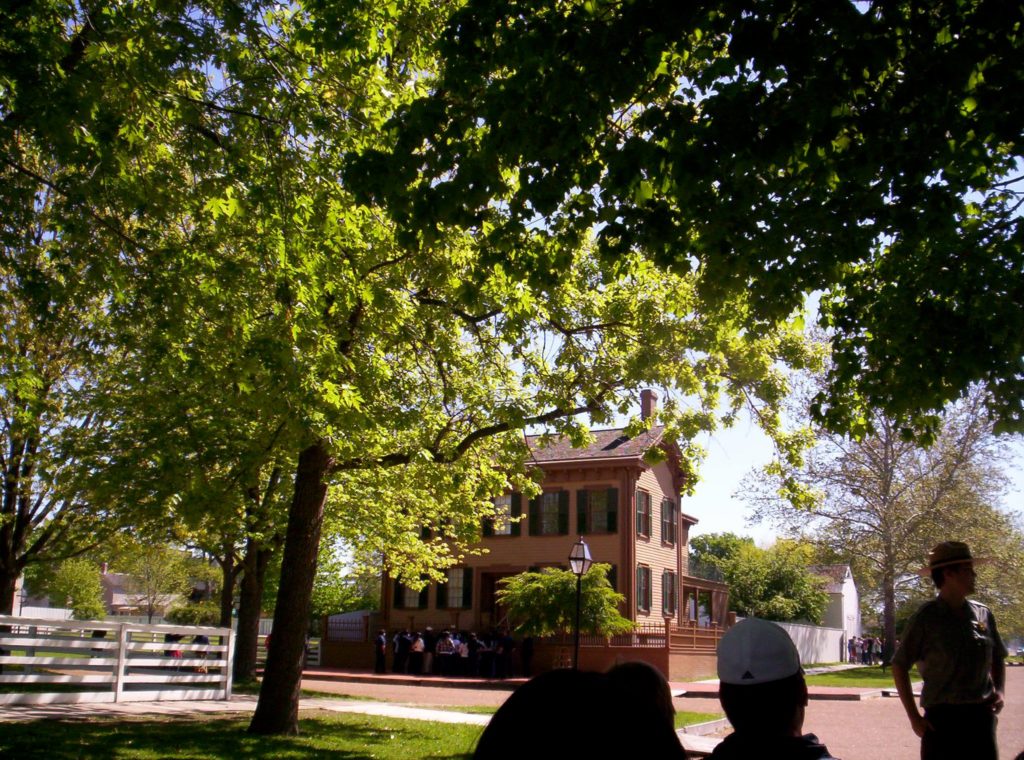 My mom and I had the great fortune of visiting Springfield a few years after this book was published. Now, you have to understand that Lincoln is a man I admire greatly despite his many imperfections, and you also have to understand that when I see amazing historical things, I cry. Ergo, I cried through most of my time in Springfield and my mom tried to distance herself from me as much as was seemly. It's embarrassing traveling with a bawling 30-something, apparently. But I did not see all that much to complain about. Sure, the ranger didn't know that Lincoln was born on February 12, but nobody is perfect.
It's true that history is not being preserved here in the US. Mary Lincoln's childhood home was a car garage for awhile before it was rescued. The Paul Revere home in Boston has a few slabs of original wall left. But you still know you're standing where these people stood, and with a little imagination, you can transport yourself if you really want to. That's a big if, I guess.
In short, there were some interesting and funny little snippets in this book, but overall, I think the mission got a little lost, so the reading experience was not entirely enjoyable.
If you've read it, let me know what you think!